The move is always a great time of stress, but also of excitement! It is the symbol of a renewal, of a new adventure! But who says adventure, says twists and turns, and the first challenge you will have is to succeed in your move. Are you afraid of making mistakes or forgetting obvious points?
In order to help you, we have compiled a list of the mistakes to avoid to avoid disappointments.
1. Thinking that you still have time
Time is flying… Your move is scheduled for in two months and it seems to you that you will then have plenty of time to take care of it once Christmas or the children's birthday parties have passed. But this is not the case … Moving also means sorting through all the belongings accumulated over time, packing up your boxes but also perhaps rethinking the furniture or children's bedrooms, and doing a mountain of administrative procedures to announce your change of business. 'address.
You will find on PlanYourMove.ch all the procedures for your move in 6 steps, many free advice, tips and checklists, offers from partners. You will be able to prepare your move quickly and efficiently without stress and saving precious time!
2. Sort later
Sorting through all of your belongings is a long-term task, but it is essential. Without it, you risk moving, therefore packing, carrying, then tidying up or finally realizing that you do not want to keep such and such broken clothes or kitchen machine.
Not sorting before you go is an illusion of saving time. In addition, by sorting you only take the essentials and your mover's bill will also be reduced. You can find 12 tips for efficient sorting in step 2 of PlanYourMove.
If you want to get rid of your bulky furniture during your sorting, no problem, have your furniture transported by MoveAgain, which will take care of taking the things you no longer want to the recycling center.
3. Order boxes at the last minute
Cardboard boxes are often at the heart of a good moving We think about it because it is the minimum requirement,but often the organization is not there. Perhaps the recovery of old cardboard seems to be a solution (more ecological and economical), but sometimes they end up complicating the task for you, because they are too fragile and unsuitable. MoveAgainmakes your job easier by offering you new boxes as soon as the quote is created. You choose the number of boxes you need and the delivery date. Simple and fast, the boxes arrive at your door.
4. Do not take the time to indicate the contents on the boxes
This may seem obvious, but under stress, you may think that writing down what is in the boxes is not essential, which is a mistake. An average person moves with about 20 boxes. If you have to open the 20, 40 or 60 boxes in the evening to find the pot to cook a pasta dish quickly, you will tire yourself out for nothing and may end up in a bad mood. Not to mention the lack of efficiency and the loss of time when unpacking.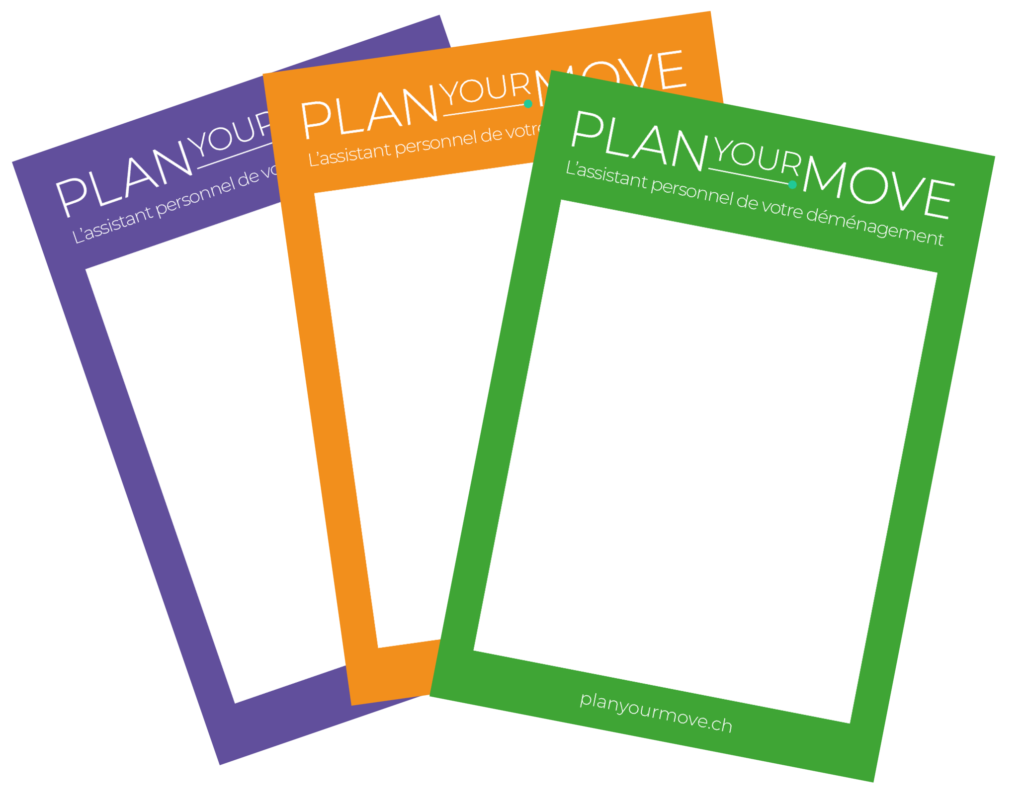 PlanYourMoveoffers you stickers to stick on the boxes with color codes. It is visual and simple: you choose purple for the bedroom, orange for the kitchen, green for the cellar, etc. All you have to do is write down on the sticker what the box contains (clothes, plates, books, etc.). It is an incredible time saver!
5. Thaw the fridge on D-Day
The freezer should be defrosted two to three days before moving to allow it to dry and clean properly. Think over the previous weeks to eat whatever you have left there for the evenings of fatigue or emergency.
6. Count on your friends
Moving is a heavy task, and everyone's agendas are extremely busy leaving little room for leisure and rest. In times of Coronavirus, it is not impossible that some people may not be able to come and help on the day and you may find yourself alone in front of your furniture to be loaded into the truck.
Keep friends to help you sort and fill boxes and get professional help with your move. This is the guarantee of maintaining a beautiful friendship and of having the necessary strength on D-Day to bring your business serenely to your new home. MoveAgainoffers you professional movers at fixed prices that defy all competition.
7. Randomly choose date and time
Do not forget to inquire in your municipality of departure AND your municipality of arrival that the day you are considering is feasible. Indeed, you could then find yourself on a market day, a public holiday or with a road blocked due to a local festival. Also remember to check that the chosen day does not correspond to the end or the beginning of school holidays. Depending on the location, you may need to ask the municipality for permission to park the truck.
As for the time of the move, while it may be convenient to move at the end of the day to avoid absences from work for example, you should also consider that at the beginning and end of the day, there is a lot of traffic. You may lose a lot of precious time by being caught in traffic jams.
8. Skip the weather
It would be a shame not to have thought that on this day rain, a thunderstorm or snow is forecast! Indeed, in this case, it will be necessary to anticipate and provide additional tarpaulins to protect the furniture or boxes and adequate clothing. Indeed, getting a trailer loaned is great, but if it doesn't have a tarp and it's raining hard, it's more complicated.
9. Do not take care of the end of lease cleaning
Thinking about cleaningfor the condition of the last day is often a routine. We think we are saving time, but this is not always true. End-of-lease cleaning is professional cleaning that takes more time than traditional home cleaning. This cleaning is not to be taken lightly; the agencies or owners are often demanding.
It is compulsory in Switzerland but don't panic, we can help you. MoveAgainfinds you a competent cleaning team adapted to your needs who will get rid of this chore and allow you to go through your inventory in a more serene way! Our cleaning professionals can even be present during the inventory checklist.
10. Randomly choose your moving company
A professional and quality mover is the best chance for a peaceful and stress-free move. You minimize the risks and you are covered by insurance in the event of a problem. In addition, professional movers are trained to ensure that your belongings are handled with care to avoid damage. Check the notices on the internet and do not hesitate to call them if you have any questions.
The price is known and fixed in advance, this can help you avoid unpleasant surprises, for example with van rentals billed by the hour and by the kilometer, because the time required is often underestimated. MoveAgainhelps you to have a stress-free move. They offer you a personalized service and with transparent prices.
11. Forgetting to tell the neighbors of your move
Elevator blocked, furniture hitting the walls, finding several people moving at the same time, or being stuck by a badly parked car…
This is can happen during a move, which is why we advise you to let neighbors know about your move, whether at your old or new address. This will help avoid any setbacks and will give a good impression to your future neighbors.
12. Forget to make a precise list of your things to be moved
Moving is often stressful and time consuming. And the more things you have, the more boring enough this list is to make, but that's also where it happens to be most useful. It happens very often that we do not fully realize what we are going to take and realize on D-Day that we had forgotten the plants, the cellar or the attic.
With MoveAgain , this list is established directly on our platform where you just have to select your objects in each category. You save time and in addition it is sent to you by email. In addition, thanks to this list you will be able to make sure that everything has been taken in the moving truck and you will be able to check it again once you arrive in your new accommodation.