PlanYourMove in brief
PlanYourMove is a web platform intended to support its users during their move process. In a guided process, PlanYourMove guides the user through all the stages of a move, from the lease termination letter to the change of address, PlanYourMove is an all-in-1 solution for fans of the automating.
PlanYourMove is available across Switzerland and makes life easier for thousands of people every year.
Want to know more ?
Take a look at our "About" section:
Contact our public relations
We are at your disposal every day. If you have questions, an idea or need additional information, contact us on our contact page.
Cynthia speaks French and English. She is always at your disposal and ready to discuss with you on PlanYourMove.
16/06/2020
PlanYourMove launches the personal moving assistant
The application benefits from the trust of PRIVERA, the Swiss leader in independent property management, as well as partners such as SwissCaution and Mobilière.
Media Kit
Do you want to write on PlanYourMove? Here are the tools you may need to illustrate your work: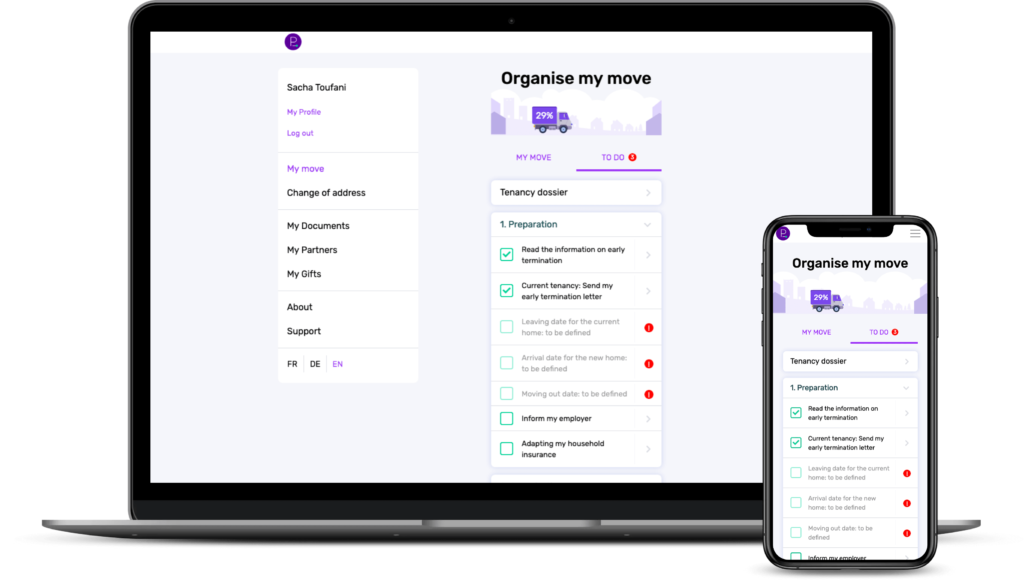 Download the media kit
All logos we have in stock, available in three languages ​​and in different file formats.
All the photos you need to illustrate your articles, for prints or digital uses.
Would you like to meet the PlanYourMove team?
The entire PlanYourMove team is at your disposal for your questions about our startup, its ambition and its vision. You have ideas, questions, proposals to submit to us, simply contact us with the link below.
Key dates
The PlanYourMove idea was born
PlanYourMove SA
Registration in the commercial register
Development
Start of development of the app.planyourmove.ch platform
First user
Our first user to move to French-speaking Switzerland. The simple and intuitive use of PlanYourMove led him to change his address with the application